Now that we're back in the throes of routine: work, school, homework!! It's tough to find the time to sit down and spend some quality time with my children.
It doesn't have to be an expensive time, you don't even have to leave the house. Just sitting down and talking, playing a board-game, reading a book together, role-play etc....kids just love to have your undivided attention.
So with that in mind, I'm trying to devote at least one evening a week, where myself and the kids can be together with no interruptions.
This weekend, we agreed to have some luxury home-made hot chocolate and watch Monsters Inc. We all had such a fab evening, I'm definitely looking forward to our next evening.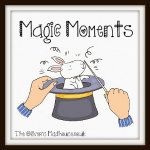 So hop on over and read some other Magic and Ordinary Moments.